Celebrating World Breastfeeding Week 2020
Watch Their Language
Watch Their Language is the latest update of Diane Wiessinger's original article, Watch Your Language. Digging deeper, the talk investigates the separate goals of scientific journals, breastfeeding researchers, and breastfeeding helpers, and how the phrasing used by each can work for or against those goals.
by Diane Wiessinger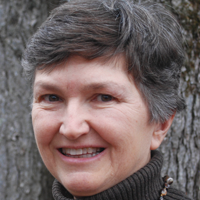 Diane Wiessinger, retired IBCLC and La Leche League Leader, has spoken across North America and abroad on maternal and infant sleep, how our mammalian heritage affects birth and breastfeeding, and how the words we use influence our view of breastfeeding. She is the author of numerous articles and handouts, and is a co-author of the eighth edition of La Leche League International's The Womanly Art of Breastfeeding, and Sweet Sleep: Nighttime and Naptime Strategies for the Breastfeeding Family, a La Leche League International book on the practicalities and controversies surrounding infant sleep.

World Breastfeeding Week 2020 Giveaways
iLactation brings a range of excellent speakers and topics to our global audience in our full online conferences, which we hold in March and September each year. The next one is Breastfeeding so ordinary so special, starting on September 15. Earlybird registration ends on August 7 – don't miss this incredible lineup, addressing breastfeeding in a pandemic, critical issues around COVID-19, relactation, counseling skills and more. Now more than ever, breastfeeding is vital for mothers, babies and the planet.
When Breastfeeding Sucks: What you need to know about nursing aversion and agitation a new book by Zainab Yate
Breastfeeding aversion and agitation is an intense, distressing phenomenon experienced by a mother during breastfeeding, which can occur at any time in a mother's breastfeeding journey. Poorly understood it is a condition rarely discussed and which has only recently been explored and acknowledged.
The culture surrounding breastfeeding often exemplifies myths about motherhood and how maternal love is bound up with ideas of what makes a 'good mother'. This can lead to women feeling silenced by the unexpected and upsetting experience of breastfeeding aversion, with little understanding of how or why it happens.
Breastfeeding advocate and research ethics expert Zainab Yate experienced aversion first hand with both her children. In a bid to find answers she went on to conduct the first ever study looking at breastfeeding aversion and agitation, published in 2017. She now runs the only resource site for mothers and healthcare practitioners www.breastfeedingaversion.com with 2,300 unique visitors a day.
Now, in When Breastfeeding Sucks, the first and only book on this complex subject, Yate examines what we know about this debilitating aspect of infant feeding. Rigorously researched and carefully discussed, this ground breaking book explores how and why breastfeeding can trigger particular negative emotions and intrusive thoughts, delves into issues of body autonomy and skinship and suggests helpful practical strategies to manage it.
Zainab Yate BSc, MSc (Medical Ethics & Law, Imperial College) is an independent infant feeding researcher & campaigner. She is currently Vice Chair of the North London Research Ethics Committee, with the Health Research Authority in the UK (HRA). She is founder of Infant Feeding Research Ethics, and a member of the King's College London Research Ethics, Governance Policy & Integrity Committee (KCL). She lives in Hertfordshire with her family.
Instagram: @breastfeedingaversion Facebook page: @breastfeedingaversion Twitter: @bf_aversion
Counseling the Nursing Mother: A Lactation Consultant's Guidethe updated 7th edition of this valuable book by Anna Swisher and Judith Lauwers
Written from a teaching perspective, Counseling the Nursing Mother: A Lactation Consultant's Guide, Seventh Edition presents practical suggestions and evidence-based information for the lactation consultant to provide the nursing mother. Thoughtfully updated, it includes new information on social media trends, blood sugar protocols, changes in Baby-Friendly NICU and the Ten Steps, donor milk in the healthy newborn nursery and effects on exclusivity, and more timely and relevant topics. Expanded discussions on dominant culture, implicit bias, cultural humility, and health equity, as well as additional case studies and a more global focus of human lactation, make this new edition an invaluable resource for all lactation consultants.
Additionally, this unique book also serves as a significant teaching tool for students, interns, and other healthcare professionals. With an extensive glossary and bulleted lists at the end of each chapter, it is an ideal study guide for International Board Certified Lactation Consultant (IBCLC) certification and practice. It embraces the rich diversity of breastfeeding families, which include mothers and fathers as well as nonbinary and noncisgender parents.
Every new print copy includes access to the Navigate Companion Website featuring the full-color photographs from the text and a robust study guide containing open-ended questions that can be assigned for class learning or used when preparing to take the certification exam.